Hannah Wells è una studentessa modello. Una di quelle ragazze intelligenti che al college non godono di nessuna popolarità. Ora si è presa una bella cotta per il ragazzo più fico della scuola, ma c'è un problema: per lui Hannah non esiste. Come fare per farsi notare?
Garrett Graham è un bad boy, ed è anche uno dei ragazzi più popolari della scuola, grazie alle sue imprese sul campo da hockey. Ma le speranze di un grande futuro rischiano di andare in fumo perché i suoi voti sono troppo bassi. Avrebbe bisogno di un aiuto per superare l'esame finale e poter diventare un giocatore professionista…E allora è naturale che i due stringano un patto. Hannah sarà la tutor di Garrett fino alla fine dell'anno. In cambio, Garrett fingerà di uscire con lei per accrescere la sua fama: a quel punto tutti la noteranno di sicuro. Ma qualcosa va storto e quel bacio in pubblico, tra Hannah e Garrett, non sembra poi così falso…
La serie "Off Campus" è così composta:
2. The Mistake
3. The Score
4. The Goal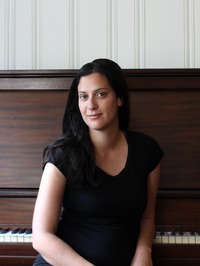 Elle Kennedy è cresciuta nei sobborghi di Toronto, Ontario, e si è laureata in Inglese all'università York. Fin dalla tenera età sapeva di voler diventare una scrittrice, e ha iniziato a inseguire quel sogno

quando era una adolescente.
Elle attualmente scrive per diverse case editrici. Ama forti eroine e sexy maschi alfa con la giusta dose di sensualità e pericolo per mantenere le cose interessanti.
http://www.ellekennedy.com/
Amo le storie ambientate al college e che hanno come protagonisti degli atleti. Amo ancora di più quando questi sono sexy, divertenti e sciupa femmine giocatori di Hockey!
Hannah è una studentessa di musica, non è popolare, non è ricca, ha un passato da dimenticare ma è felice cosi com'è, anche se vorrebbe far colpo su Justin, giocatore di Football. Peccato che lui non l'abbia mai considerata. E peccato che lei abbia dei problemi con le storie d'amore....
Garrett è il capitano della squadra di Hockey, figlio di una stella dell'hockey, è il più popolare e il più desiderato dell'università, non ha tempo per le fidanzate, l'unico suo scopo è diventare più bravo del padre. Peccato che se non supera l'esame di Etica non potrà giocare per molto....
Quale modo migliore per avere ciò che desiderano se non fare un patto? Hannah aiuterà Garrett a superare l'esame. Garrett si fingerà il ragazzo di Hannah per farla diventare popolare e così da farla notare da Justin.
Pian piano però Garrett e Hannah diventeranno migliori amici, scopriranno di avere molto in comune e soprattutto di potersi fidare l'un l'altro.
Amo questo duo. Sul serio, li adoro! Sono come cane e gatto, mi fanno morire dal ridere perché battibeccano, si prendono in giro, scherzano, ridono. Si supportano, si sopportano.
È un New Adult, i temi sono forti, ma l'autrice ha reso i personaggi ancora più, indipendenti, determinati e pronti ad affrontare TUTTO!
Ho adorato ogni istante, ogni gesto, ogni parola. Sono la combinazione perfetta di amore e amicizia.
I personaggi secondari sono tutti da scoprire, nel secondo libro troveremo il migliore amico di Garrett e non vedo l'ora di leggerlo!
Lo stile è cosi ironico e divertente che non ho fatto altro che ridere a crepapelle o sorridere come un imbecille! È leggero, ma non banale. Mi ha ricordato molto the Duff (Quanto ti ho odiato edito Newton Compoton). Mi sono innamorata perdutamente di quest' autrice che sa benissimo dove vuole arrivare e come arrivarci.
I punti di vista sono sia di Hannah che di Garrett ed entrambi (anche se diversi) hanno una simpatia che ti entra nel profondo e te li fa idolatrare!
È un romanzo che si fa apprezzare, che ti conquista e che ti lascia con il blocco del lettore perché non vuoi passare ad altro se hai ancora Hannah e Garrett dentro di te.
Devono portarlo in Italia. Tutti devono conoscere questa autrice! Non ha nulla di meno alla Armentrout o la Hoover o la McGuire! Insomma se leggete in lingua compratelo! Se siete una Casa Editrice... PORTATELO IN ITALIA!
Alla prossima settimana con la Rubrica di Fede & Adri.
Se ti è piaciuta questa rubrica clicca
g+1
Commenta il post per farci sapere la tua opinione!